Well Lead Medical is delighted to participate in the upcoming MEDICA 2023, which will be held in Düsseldorf, Germany, from November 13th to November 16th. As one of the largest medical fairs in the world, all global top medical device distributors will gather here. In addition, we are pleased to announce that this year also marks the 25th-anniversary celebration of Well Lead Medical's profound commitment to the development, manufacturing, and distribution of medical devices.
About MEDICA
With over 4,500 exhibitors from 66 countries and more than 81,000 visitors from all over the world annually, MEDICA Düsseldorf is one of the world's largest medical B2B trade fairs. Countess innovative medical products and services will be shown, such as medical imaging, laboratory technology, diagnostics, health IT, mobile health, and medical consumables. The fair's rich agenda of first-class forums, conferences, and special exhibitions provides opportunities for interesting presentations and discussions with experts and medical device distributors, as well as new product presentations and award ceremonies.
Well Lead Will Shine at MEDICA 2023
In the 25th year of manufacturing and selling medical consumables, it's proud to announce that Well Lead Medical has successfully become a preferred catheter supplier in the global Urinary Foley Catheter and Endotracheal Tube market. As a main medical device distributor, Well Lead Medical will showcase our latest innovative products in Urology, Anesthesia, Endourology, Respiratory, Nutrition, Fluid Management, and Veterinary at MEDICA.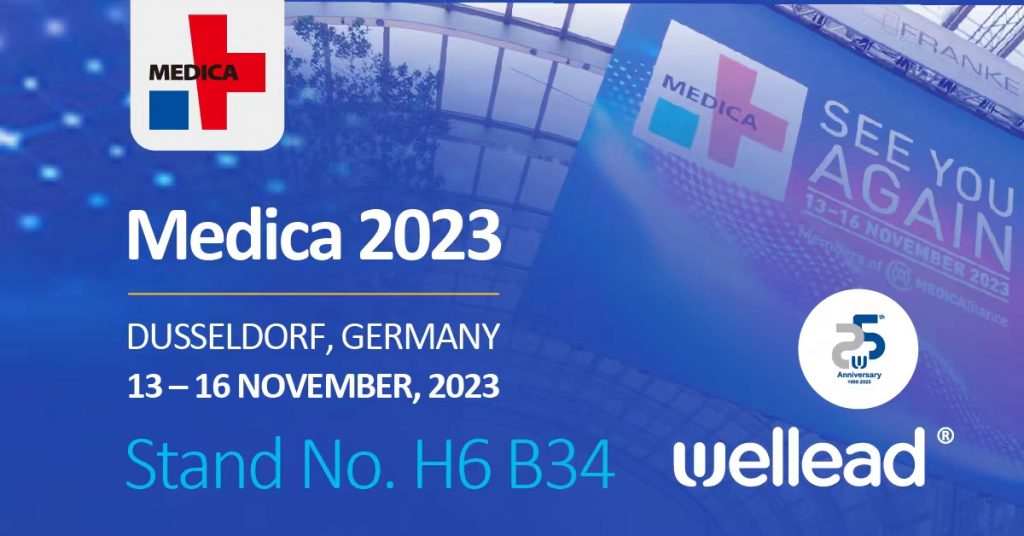 Welcome to visit our Stand No. H6 B34, interact with the Well Lead Medical team and learn about our advanced medical devices. And we are eager to introduce you to the unique features designed to enhance patient outcomes.
Why Well Lead Medical?
Why choose Well Lead Medical as your reliable supplier of Urology, Anesthesia, Endourology, Respiratory, Nutrition, Fluid Management, and Veterinary medical devices? Here are some of the reasons:
Our diverse product range covers Urology, Anesthesia, Endourology, Respiratory, Nutrition, Fluid Management, and Veterinary. Serving as a one-stop medical device distributor allows purchasing all the medical consumables needed, saving communication and logistics costs and shortening the procurement cycle.
Well Lead is dedicated to introducing new technologies and solutions to the global healthcare market. A skilled and qualified R&D team focused on continuously improving, upgrading, and innovating the next generation of products and solutions.
International Recognition
Well Lead Medical is a major global distributor of medical devices, including Latex Foley Catheters, Endotracheal tubes, Laryngeal masks, ClearPetra Access Sheath, and many more. With over 25 years of experience, our products have been sold to more than 96 countries.
We have successfully obtained regulatory approvals and certifications for a diverse range of medical products. This includes 51 FDA-registered and 83 CE-certified products. In addition, products from Well Lead Medical also have 90 registrations in China, 16 in Japan, 26 in Canada, 38 in Australia, and 55 in Brazil.
Extensive Global Business Partners
Well Lead Medical, a leading medical device distributor, has partnered with over 3,000 domestic hospitals in China and built firm relationships with distributors and hospitals worldwide. Products and services from Well Lead are currently available to patients in more than 96 countries. Additionally, more and more clinics from different countries use our medical devices and solutions aligning with industry trends.
Conclusion
Well Lead Medical remains a pioneer medical device distributor for excellence and innovation in Urology, Anesthesia, Endourology, Respiratory, Nutrition, Fluid Management, and Veterinary. We are determined to stay ahead, shaping the future of these fields with our brilliant medical consumables and solutions. With Well Lead Medical by your side, you're not just embracing superior technology but endorsing a partnership centered on excellence, innovation, and the promise of a healthier future for all.